Voodoo Pro Product Specifications
G5 Voodoo Pro Specifications
Want to know more about the G5 Voodoo Pro? Here, you can see all of the product specifications, including the ECU's key features, types of connectivity, and what comes in the box...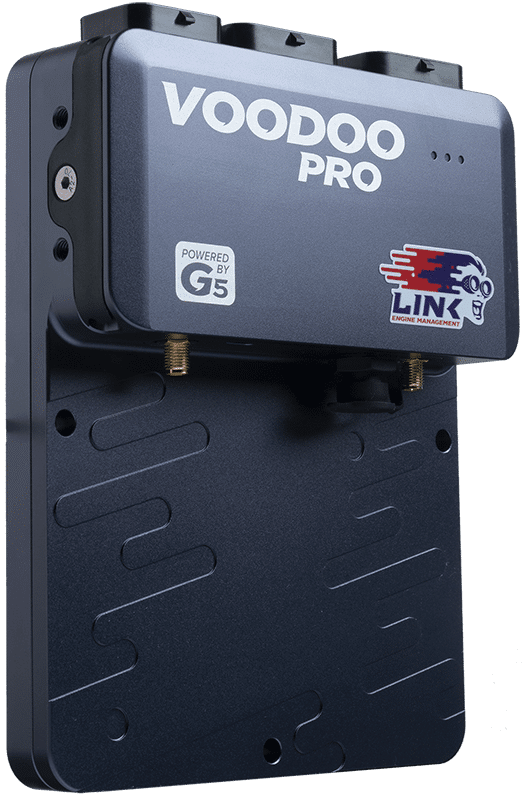 Control up to 12 cylinders sequentially
Access up to 30 auxiliary pins
14 analogue / 10 digital inputs
DI Features, including DI Pump Control
2 on-board wideband controllers
Dual Knock Control
Wi-Fi Connectivity
GPS Logging
Control any engine with 2 cylinders, all the way up to 12 cylinders, thanks to:

12 injector pins
8 ignition pins
4 injector/ignition dual role pins

Access up to 30 auxilary pins (when setup for a 4-cylinder sequential engine):

8 dedicated auxiliary pins
4 shared e-throttle/H-Bridge pins
2 shared wideband heater pins
Up to 16 from spare injector and ignition drives

Any unused injector/ignition pins can be used as an auxiliary pin
All ignition and auxiliary pins are back feed protected.
14 analog inputs
10 digital inputs
4 temperature inputs
Dual knock inputs
2 trigger inputs
Dedicated ignition switch pin
2 x internal wideband lambda controllers
Dual e-throttle, with internal solid state throttle disconnect relays
5v sensor supply
CAN 1 input now supported via CAN connector
USB-C (cable included)
Connect directly to the ECU via built-in Wifi Access Point, or add it to an existing network (Antenna Included)
Dual CAN (CAN 1 on CAN connector, CAN 2 on header E)
GPS (antenna included)
512MB logging capacity
Ultra High Speed (250 Channels of Logging, up to 1kHz per channel, up to 100kSamples/s in total)
GPS Logging - up to 50Hz
Here's everything that will come in the box with the G5 Voodoo Pro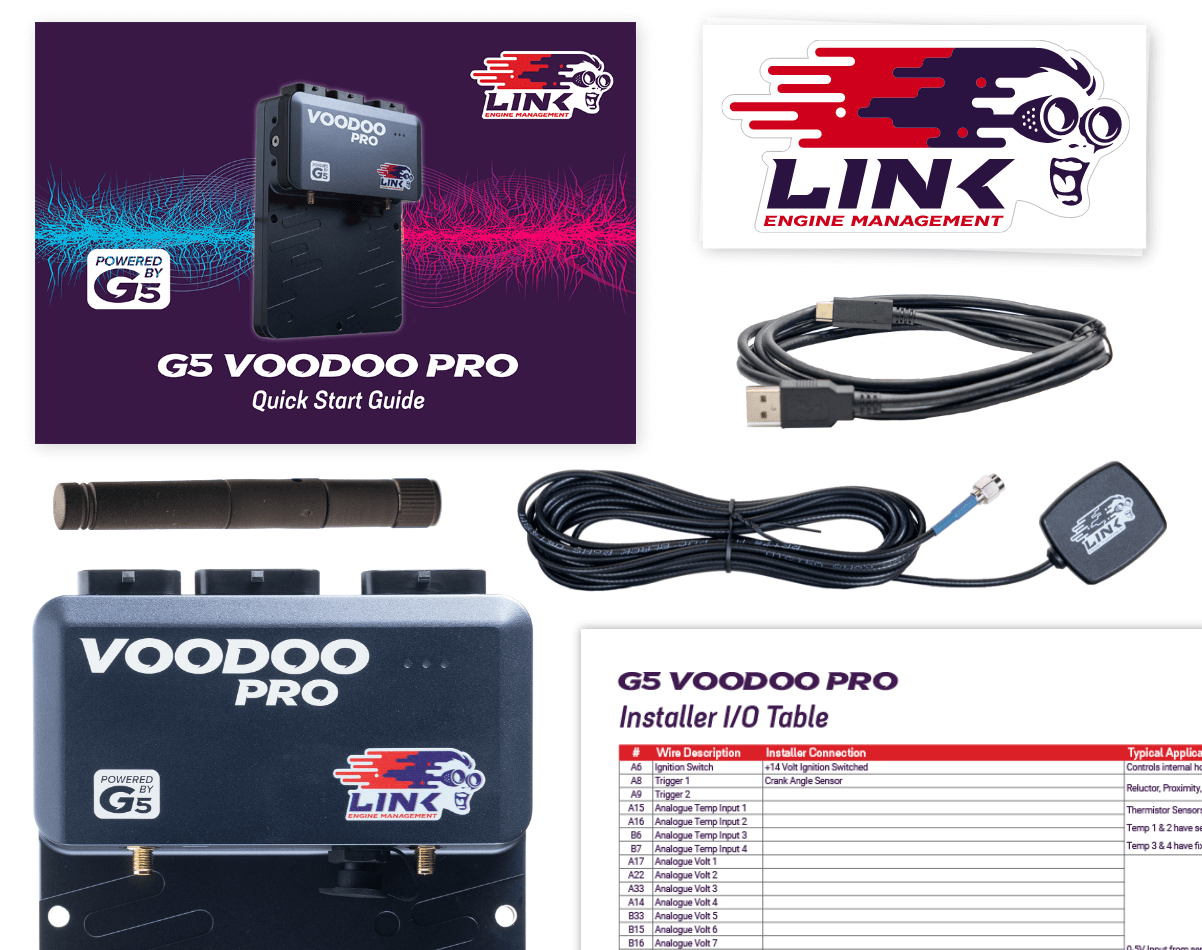 USB-C and SMA Dust Covers
PC Link is our tried and tested FREE software package that is used to connect to, program, and view log files.
Renowned in the tuning community for it's easy-of-use, the G5 Voodoo platform will continue to use PC Link, albeit with new and improved functions to accommodate our new range of ECU's.
Given that the G5 Voodoo range will offer new features and accessibility to additional pins, you will need to ensure that you are running the latest version of the software.