Link Engine Management's highly anticipated Razor PDM puts you in complete control, with fully programmable power distribution and advanced data, the flexibility to expand your set-up, and compatibility with a wide range of ECUs and devices.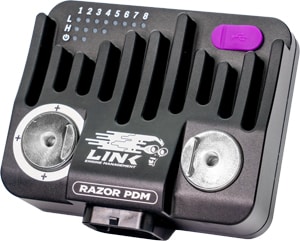 What is it?
Link's highly anticipated PDM, the Razor PDM, is an intelligent Power Distribution Module that replaces traditional fuses and relays, putting you in complete control of your setup.
The Razor PDM is a programmable device that uses logic for the smart control of any outputs you have connected, meaning events and commands can be triggered when your vehicle hits specific parameters.
The device will allow you to manage things such as fuel pumps, radiator fans, electronic throttles, servos, lights and more, as well as monitoring analog or digital sensor signals.
You can gain full control by using an Analog Switch Panel, CAN Keypad or ECU to switch output channels, as well as increasing reliability and protecting your critical components from damage.
With superior thermal performance, the Razor PDM has been designed with vehicle protection in mind, while allowing for a more efficient, cleaner, and reliable build.
It may be small and compact, but the Razor PDM can handle up to 100 Amps of continuous combined current, as well as 160A of non-repetitive maximum current. If you need to manage even more power, you can easily add multiple Razor PDM's via CAN or use as a CAN Expander to increase your inputs and outputs.
The Razor PDM has the ability to connect with many other ECU brands and CAN devices when using a custom CAN stream. Those of you with a Link ECU will be pleased to know that our software comes with a pre-configured stream, so your Link products will work with the device straight out of the box.
Product Features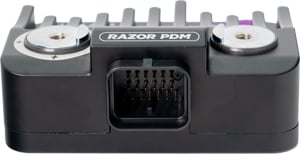 100A continuous combined current.
It can be used in conjunction with a Link ECU as an I/O expander, or as a completely standalone device.
4 high power outputs capable of 25A continuous, PWM, high side drive, low side drive, or paired for H-bridge actuator motor control.
8 Universal A/D I/O pins, capable of 8A output each or as analog or digital inputs. Software controlled pull-ups and adjustable switching thresholds when used as inputs.
Flexible and powerful control strategies including internal general purpose PID control, math functions, logic expressions and CAN keypad functions.
CAN keypad integration and flexible button logic, buttons can control PDM or Link ECU functions (G4X or G4+ with some limitations).
26 pin Superseal connector.
USB configurable.
Fully sealed CNC aluminium enclosure.
What's in the box?
Link Razor PDM
Mounting plate and screws
26-pin Superseal AMP connector
USB-C connection cable
Positive terminal insulation boot
2 x high-current ring terminals and bolts
Quick start guide
Can I use the PDM without an ECU?
Good news, you don't need an ECU to use the Razor PDM, as it can be utilized as a standalone product. However, by connecting it to your Link ECU, you can operate the PDM via CAN devices, such as a CAN keypad, while CAN loggers can also be used to capture a multitude of data.
For those of you without a CAN logger, your Link ECU can be setup to capture the CAN stream data. The PDM Link software can also monitor currents in real-time, so you can see just how much power is being used.
How do I setup the PDM?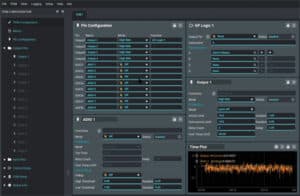 The PDM has been built with safety and reliability in mind, which is why it features over-current and short circuit protection, with configurable trip and resettable fuse parameters, which are all set via the dedicated PDM software, PDM Link.
This software will allow you to control and set many parameters within the PDM, including the setting up of intelligent control outputs. This means you can set an output to switch on or off based on certain criteria. These can be programmed using PID's, Logic or Maths Channels. If you are familiar with tuning in PC Link, then this will be a breeze for you to set up.
A Quick Start Guide is included with the product, and the PDM Link software is now available for download.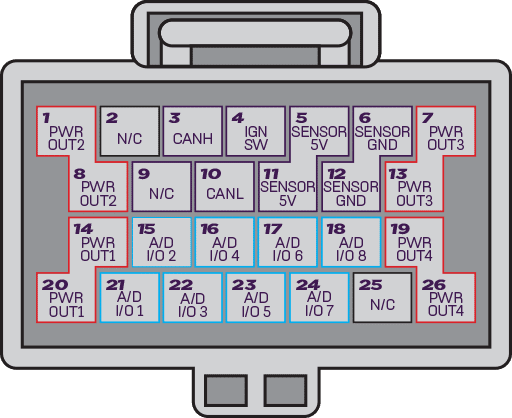 If you would like to purchase the Link Razor PDM, please contact your local reseller:
We have some great options to learn more about ECUs