Our products are not designed or intended for use in the tampering or defeating of emissions control, or for contravening any other laws or regulations. Click here if this might apply to you, your vehicle or engine
WELCOME TO THE LABORATORY OF SPEED
Link are world leaders in engine management, with integrated solutions from standalone engine control units (ECUs), to power management, data, dashes, accessories and the world's largest range of plug-in ECUs for major performance engines.
Integrated Solutions for Winning Performances
An engine control unit (ECU), also called an engine control module, controls many parameters and is at the heart of any vehicle's performance.
Link's solutions are highly expandable and integrate a wide range of components, data and control for optimal performance.
Our support and reseller networks ensure you get the best solution from installation, to ECU tuning and performance.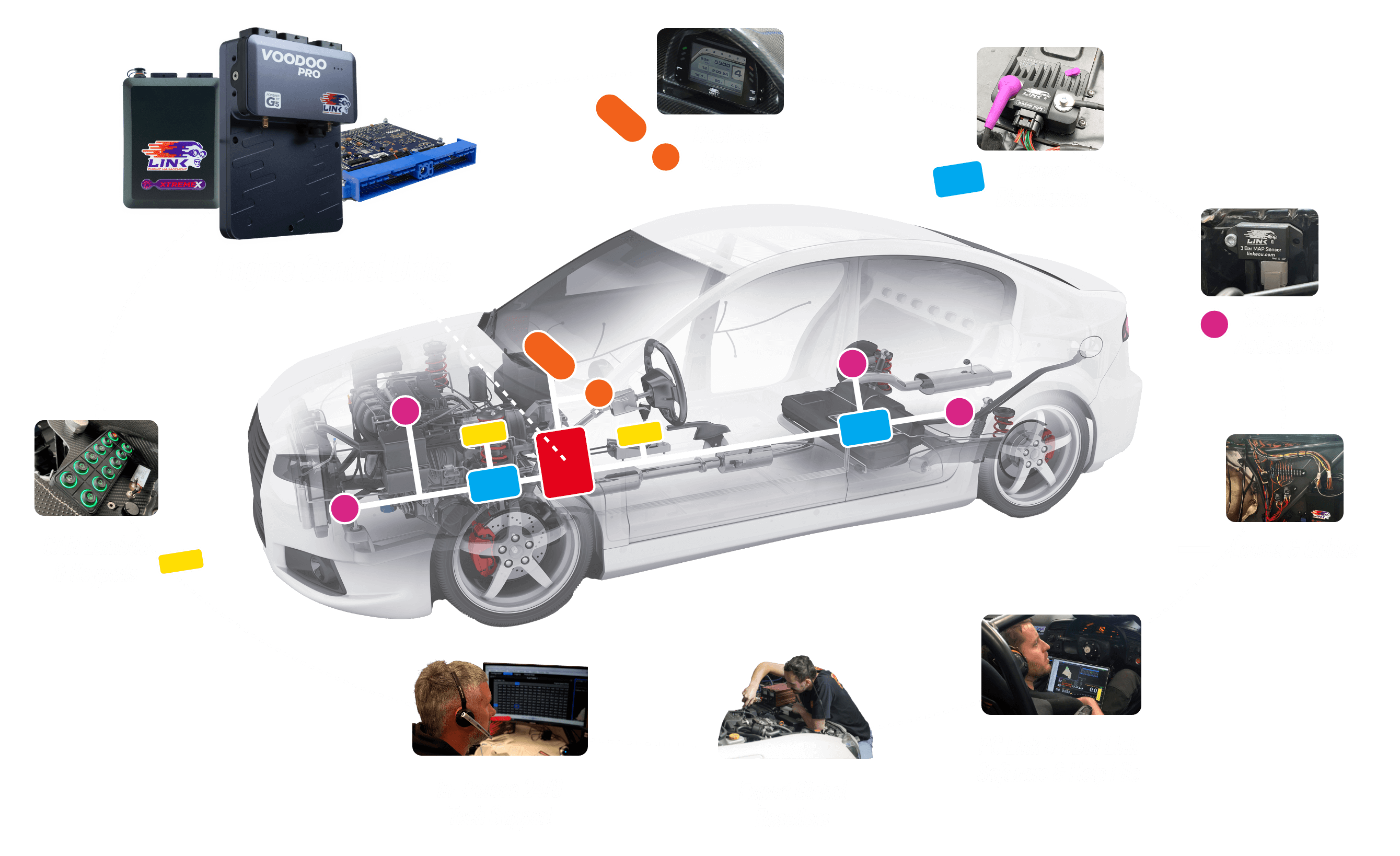 New to ECUs?
Discover what an ECU can do for your vehicle
Planning your build?
Advice for getting the most from engine management
Find the ECU for you
Which wire-in or plug-in ECU is best for you?
Why Choose Link?
Link has been designing and manufacturing cutting-edge engine management technology and vehicle ECUs for over 30 years, and our passion is creating exhilarating power and control.
The pursuit of quality runs across the entire business – we're committed to outstanding customer service and being the most trusted choice for performance enthusiasts and professionals worldwide.

Performance
A state-of-the-art hardware and software portfolio that delivers unrivalled performance, maximizing power, safety and efficiency.

Ease of Use
Our engine management systems get you performing faster with ease of installation, seamless integration and user-friendly interfaces.

Quality
Reliability is key – our robust designs, quality components and rigorous testing ensure products deliver consistently under the most demanding conditions.
Support
Our 24/6 Sales and Tech Support Teams provide advice and guidance to users, teams and Resellers, regardless of your technical expertise.

Innovation
Link's product range, PCLink software and feature sets are constantly evolving to keep giving customers the competitive advantage

Warranty
Our limited lifetime warranty has no tricks or catches. If your Link ECU breaks in the normal course of its designed use then we will repair or replace; no questions asked.