LinkECU's engine management software package, PC Link, gives you complete control of your ECU, allowing for real-time configuration of all available functions.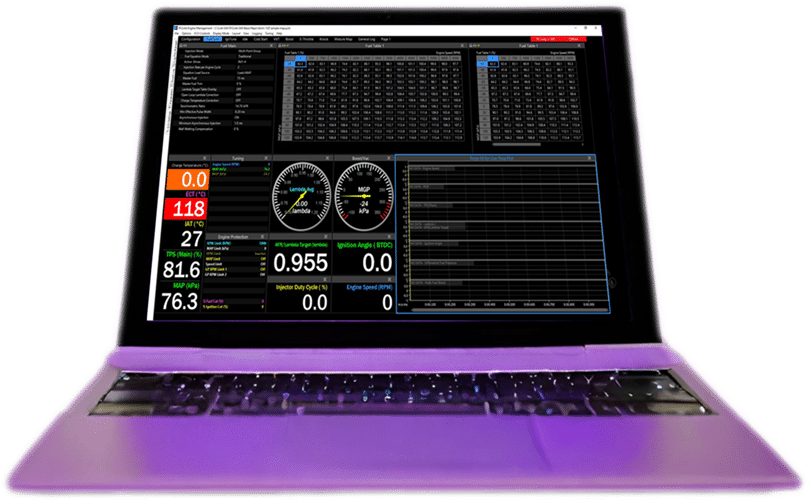 Taking Tuning To The Next Level
PCLink is an advanced tuning package designed to be simple to use, yet deliver the flexibility and advanced features required by professional tuners, incorporating data log analysis features to further reduce tuning time and provide after event feedback.
PC Link is one of the most comprehensive tuning packages available on the market today, and, it's completely FREE.
PC Link can be fully tailored to your needs, giving you the ability to modify the layout of the ECU tuning software dependent on your priorities. A tabbed page system allows multiple pages of information to be arranged and quickly viewed.
Features
Compatible with all Link ECUs
Mouse or Keyboard driven
Fully configurable multi-page layout
Large number of different "views" for displaying ECU and log data
Advanced time saving tuning features and shortcuts
Single key access to all critical runtime values
Single key to convert metric-imperial
Available in multiple languages
Logically organised tree style navigation of ECU settings
Comprehensive help files
Gauges
A variety of configurable gauge types
Highly visible warnings
Tuning
Pop-out settings menu that saves screen space
Interactive 3D surface graph
Multiple table display
Configurable gauges, plotting and runtime values
Warnings and Status Information
All runtime displays automatically change based on selected table
Logging
Record, save, download and analyse data log files
Customisable colour themes
Log analysis views: Time Plot, Navigator, XY Plot, Statistics, Histogram, Value List, Parameter List
Overlay and offset laps and files for comparison
Global time and cursor linking
Record, analyse and compare logs while tuning an ECU
*PC Link is currently only available to download for Windows based PC's, laptops and tablets.
Please ensure you download the version corresponding to your ECU (A G4+ ECU will require a G4+ version of PC Link) and read through the 'Help file' which provides a lot of useful information.