Build of the week – Nissan Pao x Silvia SR20DET
This rear wheel drive SR20DET really is one of a kind!
Imported to the United Kingdom in 2017 by Leigh Adams and Sarah Coleman, the car has undergone a huge amount of work to get to it's current state as a road going track car.
Essentially, it's a Nissan Pao crossed with a S13, making it RWD powered by a Silvia SR20DET engine.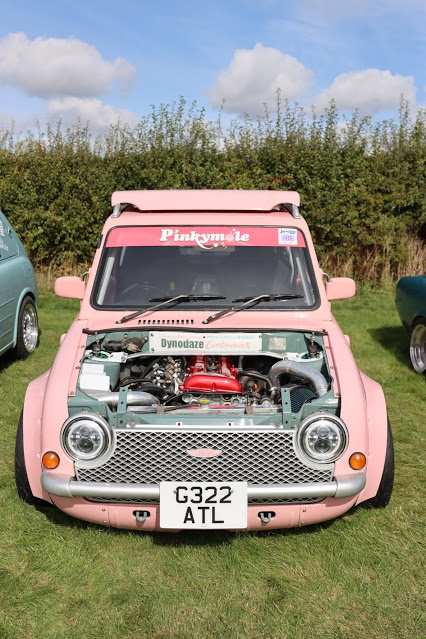 The extravagance doesn't stop with just the engine / chassis combination however; a huge list of engine and body upgrades also make this car extra special on-and-off track.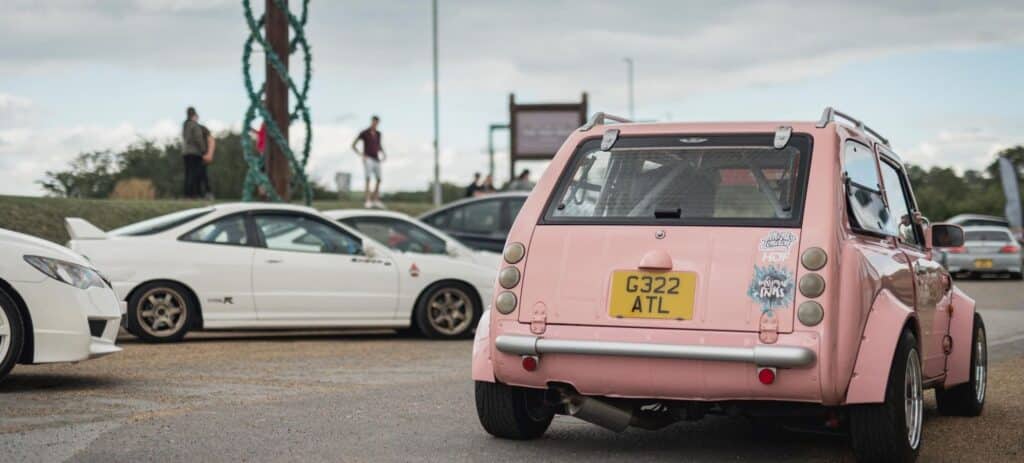 The original build was done in Japan and got noticed by drift legend Ken Nomura. Intentions of drifting the machine weren't fulfilled due to the extremely short wheel base, but he still signed the dash with his signature chihuahua!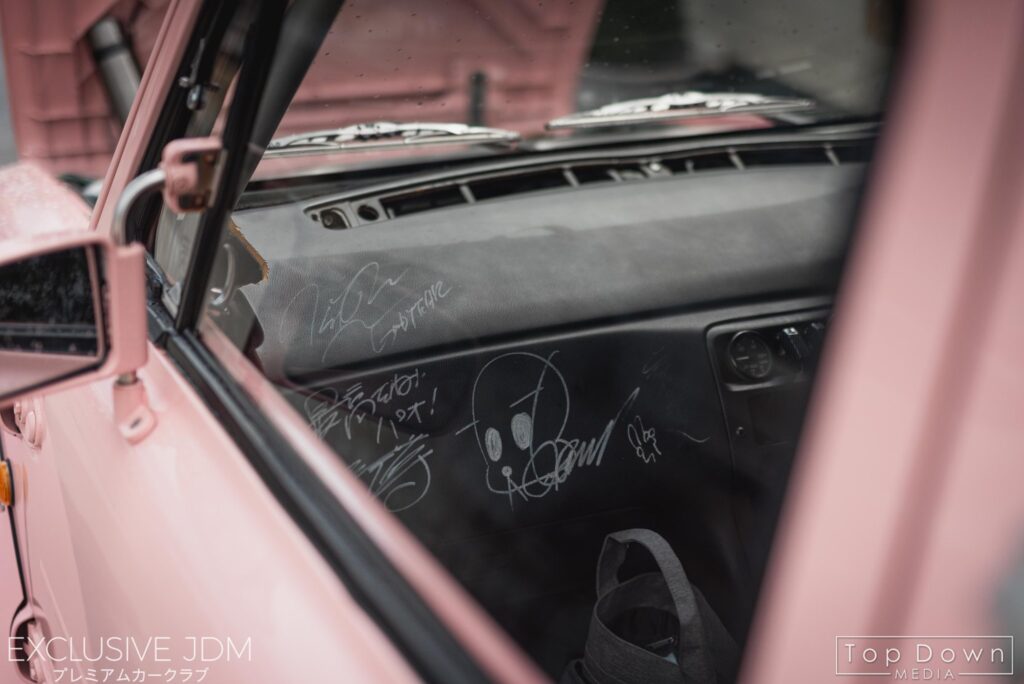 Nowadays, the car is used for track days at circuits such as Silverstone, Donington, Mallory and Santa Pod, plus display at various club stands at Jap-orientated shows. It has also briefly featured in a Monky London video and is even pencilled in for one of his car reviews.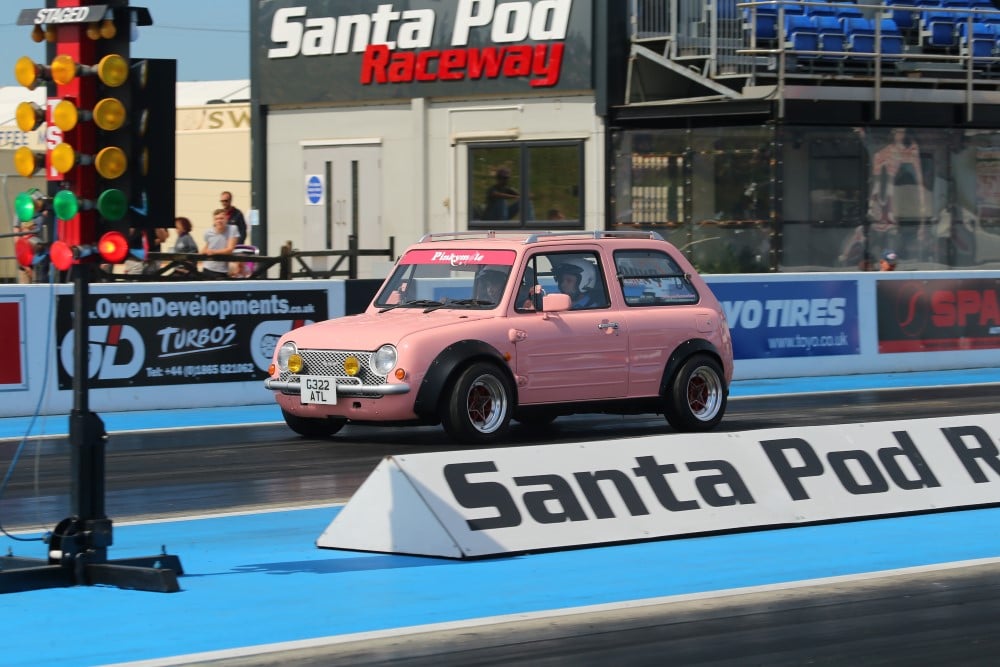 A newly-rebuilt engine courtesy of JDM Garage features an upgraded turbo, fuel injectors, winged sump, cams, pistons, digital dash etc.
The resulting power is a modest 354 BHP, 303 ft-lb, controlled by a G4+ Link PlugIn ECU. The vehicle has been tuned by Dynodaze Customworx in Nuneaton, Warwickshire.
Check out the full specifications below and if you are based in the UK, certainly keep an eye out at local circuits for your chance to see this beauty up close!
You can also follow the car on social media here, plus check out their recent blog post about some new developments here.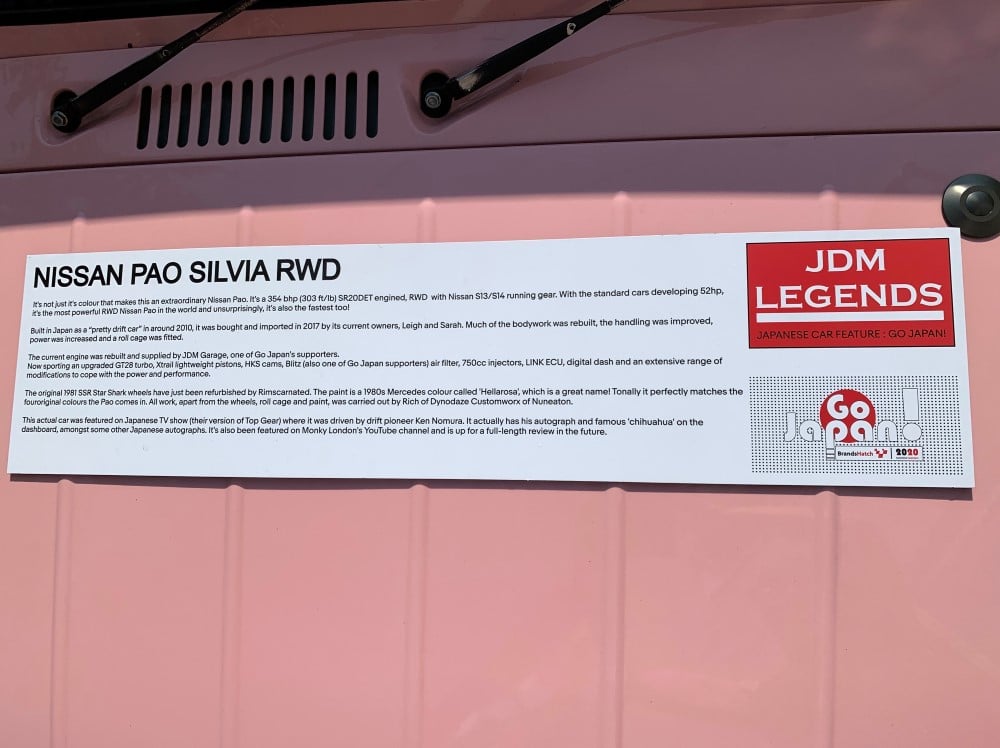 Spec list:
Engine upgrades:
GT28 turbo.
Oversized pistons taken from an Xtrail.
HKS cams.
Blitz air filter.
750cc injectors.
G4+ Link ECU.
GT2871R turbo.
Stage 3 clutch.
Lightened flywheel.
Custom stainless exhaust and manifold.
750cc injectors.
Blitz air filter.
HKS cams.
Oversized/lightweight Xtrail pistons.
Winged sump.
Race fuel cell.
Battery relocation.
Sinco digital dash.
HDF-built custom roll cage.
Original vintage SSR Star Shark wheels, fully restored, widened and repainted by Rimscarnated.
Nankang NS2R tyres.
Standard Silvia brakes and race pads.
Braided lines.
Tein EDFC coil overs.
LED Jeep Headlights.