'RalyGrl', Amanda Skelly's, Subaru Rally Career
Last week Link ECU caught up with, Amanda Skelly, a.k.a RalyGrl, to chat about where it all began, her career highlights, her relationship with Link ECU and where to next.
The beginning
Amanda grew up with a classic car loving father who was always restoring and selling them. As kids, she and her brothers were exposed to go-karting, dirt bikes, snowmobiles, Dune Buggies and even a Honda Odyssey. "Every winter we would take these amazing snowmobile trips, and when I was about 12 years old I remember thinking how awesome it would be to be a female racer. I always loved going fast and was drawn towards racing."
In 2006, Amanda was introduced to her hometown event, Sno*Drift Rally, in Atlanta and Lewiston, MI. After initially just spectating, she was later introduced to the Detroit Region SCCA RallyCross events where she was bit by the 'rally bug.' In December of 2006 Amanda bought her first Subaru, a 1998 Impreza 2.5RS Coupe (named Sassy) and began competing the following February at the local rallycross events. In 2009 Amanda moved up to competing in SCCA TSD Road Rallies. She attended and spectated at the Sno*Drift Rally every year until her own debut as a driver in 2012, in that very same '98 RS that started it all. Amanda has been competing in stage rally ever since.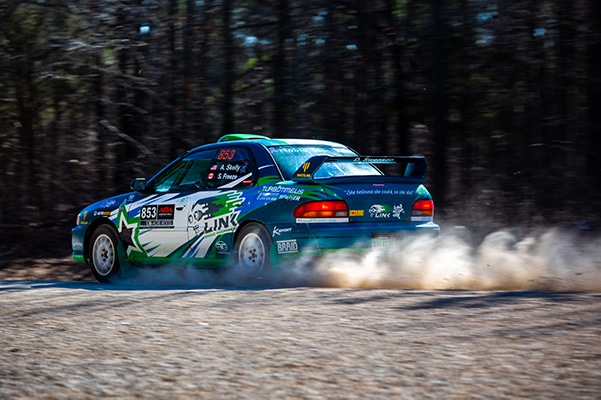 Career Highlights
Although one of Amanda's career highlights was from when she first started in rally, it's still one of her best. "Receiving the Noble Way Award in 2012, which was presented by Rally America, in honour of former rally driver Matthew Noble Marker. I received this honour during the Olympus Rally, which was my first fully completed rally and the very same rally which Marker succumbed to a fatal accident."
More recently however, one of Amanda's best moments was competing with her new co-driver, Sarah Freeze, at the 2019 Sandblast Rally, where they received 3rd in class and 4th overall.
RalyGrl and Link
In 2015, Amanda was in the process of building her second rally car after retiring her '98 RS. In the midst of the build, Amanda and her team approached the question of what she wanted to do in terms of an engine build and how they wanted to proceed with this next car. It was suggested to look into a standalone ECU, which is where her research began. "A former crew member suggested looking into Link ECU and reach out to see if there was any opportunity there. So, I read up on the company, put in an inquiry and was beyond pleased to get such a positive response! The rest as they say, is history."
"The support I get from Link ECU and their amazing top of the line products is fantastic.  For example, although they were not able to supply an application plug-and-play ECM, they sent a top of the line G4+ Fury instead as it would allow use of the VTC system, as well as provide for high baud rate onboard logging", says Skelly.
A dash display was also sent along so they could monitor the system/engine vitals. Link worked with an independent wiring company to provide a plug-and-play harness from the factory wiring harness/ECU pins, to the G4. When the team encountered a wiring concern on initial installation, Link's technical support was able to help find a misplaced pin/wire in the harness.
But it's not just Link's incredible service and technical skills that make Amanda appreciate them all the more. "Link ECU have been beyond supportive of myself and my team as well, assisting with getting the car to events, advice/help with tuning/setup, even down to employees using their personal time and vehicle to tow for a few events!"
When asked why Link is their ECU supplier of choice Amanda's crew chief/tuner Ryan Davis, of TurboTime (Sanford, NC), responded directly, "After having the ability to chat informally with one of their reps, it was enlightening, and frankly reassuring, finding out how thoroughly testing is performed, as well as the state-of-the-art processes that go into production. It's also hearing some great stories from behind the scenes at Formula D, where Link sponsors a large number of the top Pro 1 drivers/teams. The tuning interface has been straightforward, although frankly I have only just begun to scratch the surface of capability, as the car is sporting a very basic calibration. I look forward to adding some flex fuel capability, as well as various failsafe and safety protocols using the extensive features list available on the Link ECU. They are standing by with all of the support needed to turn the ECU from basic running, to completely customized this summer prior to testing and our next events."
What's next?
Amanda and Sarah just competed in their 2nd rally together (and Amanda's 3rd for this year) during the 100 Acre Wood Rally, in Salem, MO.  Next up, Amanda will be doing some rally training at the Florida International Rally & Motorsports Park, then will be attending and competing at Hyperfest in May. Later in July the ladies will return back to the Eastern region of the American Rally Association (ARA) National schedule, for the New England Forest Rally in Newry, ME.
Amongst all of this Amanda is still finding time to work on her other passion, raising awareness and fundraising for the Lupus and Cystic Fibrosis Foundations. "Having been diagnosed with Lupus almost 3 years ago and having a teammate [Ian Kessler] with Cystic Fibrosis, the causes are close to my heart. We raise money for both the Foundations through campaigns, giveaways and other events such as "Painting the Town Purple" and "Painting with a Twist". Every May, we also share facts about the invisible illnesses on our social media to raise awareness and share our stories."
Advice for aspiring rally drivers
When asked what advice she would give to anyone wanting to get into the game she responded " I think the best way to get your feet wet is by seeing what rally is like behind the scenes. Volunteering is a great way to see rally from a variety of perspectives, and some volunteer positions even give you a chance to interact with all the teams.  Without volunteers, rally wouldn't be possible in the States! It is also easy to get involved by trying your hand at co-driving, and then you don't have to pay for a race car right away. Some other options to get into rallying are by participating in smaller, local events such as rallycross or TSD (time speed distance) rallies. There are even opportunities to rent stage rally cars.
But if you want to become a driver, my advice- do the research and prepare yourself for your journey. The better equipped you are with knowledge, the further you can take yourself, and the less stressful that journey will be. Most of us start out on a whim with a passion for racing and jump in with both feet.  This can result in both success and failure, but so long as you learn from your mistakes and failures, you will keep growing and that is so important!", she concludes.
Safety is also top of mind for Amanda, "Always invest in your safety. It can be easy to overlook in the beginning, to try and save a few pennies. But in the long term, it is worth investing in high quality safety equipment. For example, after one of my accidents while co-driving, we hit 2 trees. The first we hit sideways going about 70mph, and the second we hit head-on. The first tree was inches behind my seat. My head went to the window… This resulted in a concussion and whiplash in both directions. Because of that incident, I will never race in another car without halo seats. It is worth investing in good seats, belts, HANS device, suits, shoes and gloves etc. right from the start."
And her final piece of sage advice is to focus on getting seat time. "On the track you see the same one corner a hundred times, but in rally you see a hundred corners one time. It's really important to get seat time, however possible, even just driving your rally car around daily. Unlike track racing, rally drivers don't often have the opportunity to practice.  A lot of our practice happens during the events, or brief moments during shakedown and testing.  It is really important to find a way to gain seat time to improve as a driver, because you don't always know how your car is going to behave in all terrains. My theory is that any chance you can get to throw your car around, test and gain more car control gives you a greater sense of your car and own abilities, and that's makes all the difference."