Red Bull Driftbrothers rearing to go!
Joe & Eli Hountondji, A.K.A the Red Bull Drift Brothers, were two strong contenders in the 2018 Drift Masters season.
Some back luck may have hindered their consistency, but their professionalism, presentation and driver ability was faultless all season long. The brothers are back for more in 2019; aiming higher than ever before.
In its second year of competition, Drift Masters see's Europe's top drifters collide in spectacular fashion. With six rounds throughout Europe, the Championship is rapidly growing and consequently attracting some of the best drivers from around the world. The Driftbrothers are well among them, sliding their Chevy powered vehicles in exhilarating fashion.
No only do the DriftBrothers compete in style, the pair entertain audiences throughout Europe by doing displays at premier events such as Formula 1. This winter, they even went to Sweden for some drifting in the snow!
Eli's BMW E30 pickup utilises a Link G4+ Thunder ECU to control the LSX 7.4L V8 engine, tuned by Robbie Thornton at TDP.ie.
Joe's S13 is heavily customized, but uses the same engine and running gear, creating two very well matched vehicles.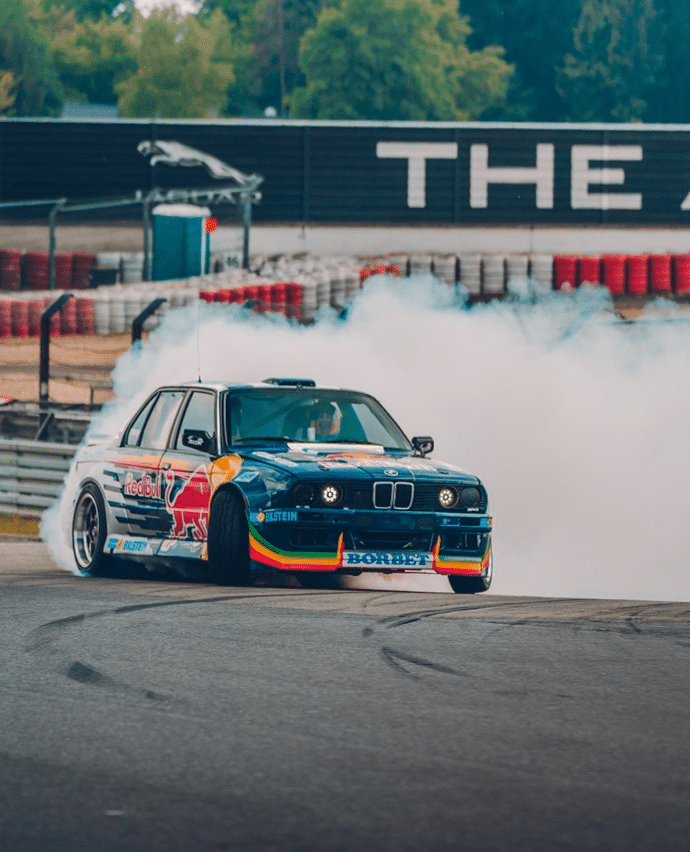 Both drivers are involved in the team and set-up of the cars. The team also make good use of the data logging available via PC Link, Link's tuning software, to obtain data from the cars performance.
We at Link ECU wish to send the Driftbrothers the very best of luck for the Drift Masters season beginning this weekend in Austria! Check out what they have to say below.
What cars are you competing in this year? Are they the same as last year?
We are competing in the same cars that we've been competing in for the past couple of seasons. One is a BMW E30 and the second a heavily customized Nissan S13. Both cars are equipped with Chevy LSX 7.4L V8 engines and generate beyond 600bhp.
What work have you been doing on the cars over the off season?
Before the 2018 DMEC season took off, we joined forces with TDP.ie and have done a profound upgrade on almost all relevant components of the cars. Chassis, drivetrain, breaking, transmission and much more – we overhauled all of it. So in the winter leading to this year's season we focused on preventive maintenance, increasing reliability and getting rid of some bugs that kept us from really giving it all last year (especially in the power steering). In short: The 18/19 off-season was one of soft and subtle upgrades.
What ECU are you each running?
We utilize the Link G4+ Thunder. An amazing piece of technology that enables us to have a very good insight into the engine's behavior and the cars' performance. The info provided by the system, not only allows the tech-crew to keep a close eye on the technical factors, but also helps us as drivers to understand the track and to really be able to analyze our performance and cross-check the gut-feeling regarding tuning the cars accordingly. Robbie's contribution is of incredible value here – we believe, he is one of the best mappers worldwide. Not only in driftsports, but in motorsport in general.
What do you think about competing in Drift Masters?
It is a massive honor and as a challenge, just as big. Never before has there been this level of talent combined in a drivers' field as we have it in the DMEC. We firmly believe that the international driftsport's next evolutionary steps will be taken right here: In the DMEC.
How do you feel about your 2018 season?
Last year was a tough one, as we have been tormented with tech-issues. As mentioned before, the power-steerings on both cars were generating an error pattern that was incomprehensible, giving us a huge headache accompanied by brake and clutch issues along the way and keeping us from… well, driving! It was like entering a battle, ready to give it a 110% – but never fully knowing how the steering, braking and clutching translates. Felt like a worst-case. We finally got a hold on this matter, but unfortunately only shortly before the fifth of six DMEC runs. That means, that we couldn't really show the world our skills as drivers. The more reason to look forward to 2019.
What are your expectations this year?
We are hungry, eager, ready and willing. And we can't wait to enter the arena and to fight it out.
See how the Driftbrothers get on via the Livestream coverage: https://www.facebook.com/DriftMastersGP/
For results, check back here: https://www.driftmasters.gp/