Spotlight on: Dylan Hughes 2JZ / E46 Pro Drift Car
Link ECU is very pleased to welcome Dylan Hughes to our Formula Drift Driver line-up in 2020.
Dylan is a proven, dedicated and hard-working Competitor, having risen through the ranks of Drifting. Starting out as a Mechanic, he went on to finish second place overall in the Link ECU PRO2 category in 2018, and then to the PRO1 class in 2019 driving a BMW E46.
He loved driving the borrowed E46 so much last year, that for 2020 he has built one himself!
The car was originally purchased as a rolling chassis from his friends Mom who had used it as a Daily Driver. This meant it was in perfect condition and ready to be transformed.
The 2005 BMW E46 underwent a major build over the Californian 'Winter', starting with the 2JZGTE VVTI engine transplant. An eight point roll cage, rear firewall, radium fuel cell, quick change differential and dogbox transmission have all been installed as well. In fact, the only factory bits left on the car include the BMW shell, front and rear sub frames, and front and rear knuckles! Even the roof, doors, hood and trunk are now carbon fibre.
All the modifications promise for one very competitive professional Drift Car, especially with the Link Thunder ECU in control of the engine package.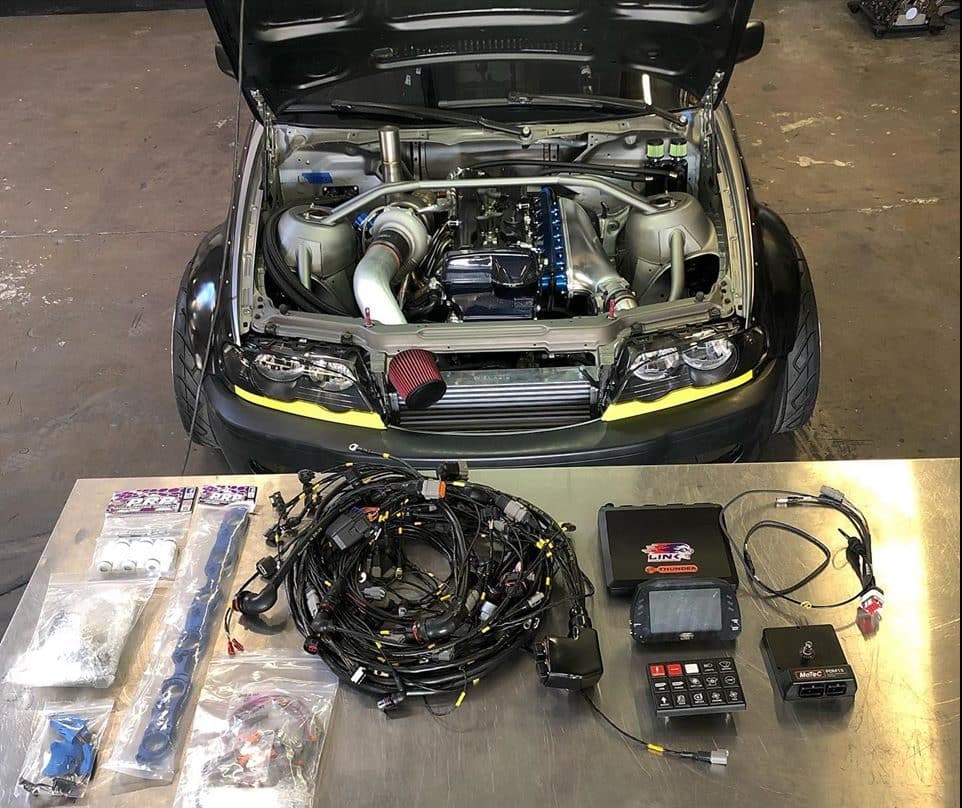 Although the start to the Formula Drift USA season has been delayed, plans are still pressing ahead for the FD Drivers to compete from July onward.
This has given Dylan a little more time to finish the build, including installing the full mil spec wiring harness by Hartsock Racing (with electric power
steering and electric water pump) and tuning the Link Thunder ECU; which was done this month.
Doesn't it sound awesome?!
Dylan's favorite feature from the Link ECU is the anti-lag, and the smooth power delivery of 860 horsepower is going to be a lot of fun! These features were enabled via a remote tune by Jason at Tuned By PSI and some excellent wiring work by Link ECU Dealer Unicorn Garage.
The cockpit also features the new AiM MXS Race Dash.
We're sure you will be joining us in sending Dylan a whole heap of Good Luck for the 2020 Formula Drift Season!
Follow his progress on Social Media: