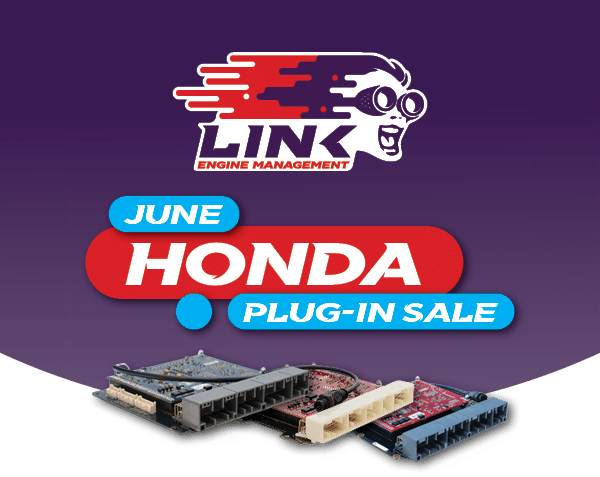 From Monday 19th June 2023, until the end of the month, all LinkECU Honda Plug-in ECUs are on SALE*, including:
K20X
Works with:
Honda Integra Type R DC5 2002-2004 with K20A/K20A2/K20A3 Engine
Acura RSX 2002-2004 with K20A/K20A2/K20A3 Engine
Honda Civic Type R EP3 2001-2005 with K20A Engine
Honda Civic Si/SiR 2001-2005 with K20A3
Honda Civic DX/LX/HX 2001-2005 with D17A1/A2/A3 Engine
Honda CR-V 2002-2004 with K24A1 Engine
More info
HC92X
Works with:
1992-1995 Gen 5 Honda Civic DX/LX/EX/Si
ACURA: 92-95 Integra RS/LS/GS/GS-R
HONDA: 90-95 Accord DX/LX/EX
93-95 Del Sol S/Si, 94-95 Del Sol VTEC
90-91 Prelude Si & 92-95 Prelude S/SE/Si/VTEC
More info
HC96X
Works with:
ACURA: 98-99 CL & 00-01
Integra LS/GS/GS-R/Type-R
HONDA: 98-02 Accord DX/LX/EX
96-00 Civic DX/LX/EX/Si
More info
Link's Honda Plug-in ECUs are a standalone plug and play replacement for your factory ECU, with no wiring needed and are shipped with a start up map to give you a tuning head start.
All Link Plug-in ECUs run the same powerful micro controller and firmware as the G4X XtremeX, giving you More Horsepower, Launch Control, Traction Control, Gear Shift Control, Anti-Lag, Boost Control and much more...
---
* Terms and conditions of the June Honda Plug-in Sale:
Valid only for sales ordered from 19 to 30 June 2023 (in your local time zone).
Cannot be combined with any other promotion.
Strictly while stocks last.