Link CAN Keypads Have Arrived
Link Engine Management are pleased to announce our new range of CAN Keypads. Coming in rugged 8 key and 12 key CAN Keypads versions, with interchangeable 15mm inserts and configurable RGB indicator rings, the keypads feature simple icons, large buttons, and bright LED indicators, making them easy to read in any situation.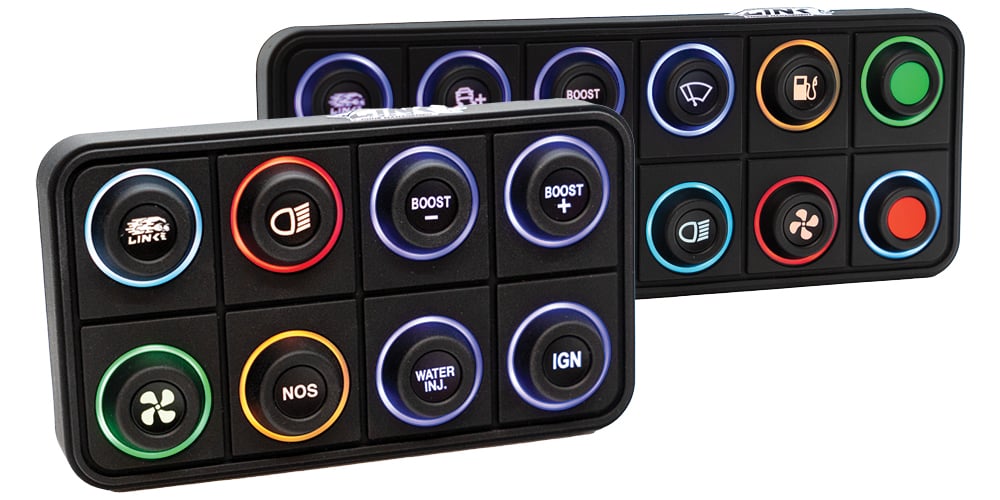 The multi-coloured LED status rings allow you to set specific colours for specific functions. The keypads are designed for ultimate reliability, being IP67/IP69K, making them immune to water, mud, soil, sand, oil, chemicals, or anything else you can throw at it.
Your Link ECU can now support the use of up to two CAN Keypads at once, giving you up to 24 keypad buttons to use. Simply install the latest firmware to take advantage of this new feature.
Customisable

We've also got a wide selection of 34 different pre-existing keys to choose from, meaning you can truly customise your keypad in a way that suits you, your car and how you intend to run it. From cruise control to NOS, we've got everything you need.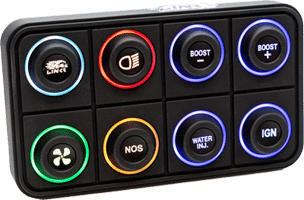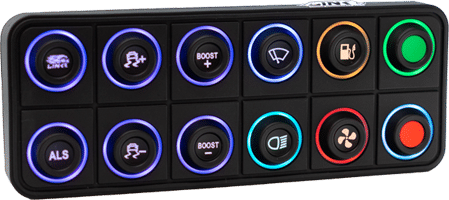 When a Link CAN Keypad is connected to your Link ECU, the following features will be available:
Button Types
Link can support a variety of button input types such as: Latch button presses (press button for on, press button again for off), Momentary button presses (press and hold for button on, release button for off), Incrementing (each button press increases output by 1 on a scale that can be set between 0-10), Up-down function (use two buttons, one increments, one decrements).
Backlight Colour
The standard backlight colour can be set can be set to one of nine preset colours. The brightness of the backlight colour can be adjusted to suit.
Button Colour
The buttons are able to change to one of seven preset colours to indicate different functions i.e., a button can be set to change colour to indicate it has been pressed and something is now on, standard backlight colour for off, green for on. Along with changing colour, buttons can be set to flash a colour i.e., a button can be set to be red, but set to change to a flashing red once the button has been pressed and an output is now on.
Button Dimming
Both the backlight colour and the button colours can be set to automatically dim once the headlights have been turned on.
Configuration
The CAN Keypads can be configured directly through the G4X PC Link and do not require a third-party application.