Link ECU Supporting Women in Motorsport
In celebration of International Women's Day 2019, today we salute all females in the motorsport industry! Link Engine Management are pleased to support many females competing across the global motorsport arena and recognise the contributions of many other women acting as volunteers, officials, mechanics, media personnel and organisational staff. Paving the way for more women to make history in what is historically a male dominated industry, these females are a huge inspiration to many.
Here, we feature seven females from seven different disciplines, from rally to drag racing, all utilising a Link ECU in their vehicle of choice. Link Engine Management could not be more pleased to help power these ladies towards their dreams.

1. Liz Gracie – Burnouts
Liz is currently leading the New Zealand burnout championship in her
1969 small block Chevrolet Camaro, EV1L69.
---

2. Amanda Skelly – Rally
Amanda has been supported by Link ECU over the progress of her latest rally car build, a '97 Subaru Impreza. She competes as an all female rally team with Sarah Freeze and focuses on raising awareness for Cystic Fybrosis.
---

3. Nikki Hepburn – Drag racing
Australian drag racer Nikki is the world record holder for the Fastest Radial Drag car and also the world's quickest female sport compact racer. Last year she rebroke her own record during a trip to Orlanda, USA, clocking 219 mph in her 1UZFE powered Toyota 86.
---

4. Nanami Tsukamoto

Nanami competes in Japan in her S14 drift car. She has previously participated in the Porsche Carrera Cup, GAZOO 86 racing and go-karting; making her one very experienced driver!
---

5. Caitlyn Hayward – Speedway
Caitlyn is a seasoned speedway racer hailing from Tauranga, New Zealand. She has competed for many years in the aggressive and highly compeitive stock car class and has just recently moved on to Super Saloon racing.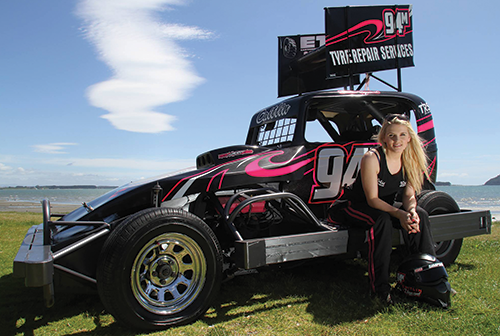 ---

6. Pip Thomson & Karen Wakelin
Pip has been sponsored by Link ECU for a few years now as she takes on the New Zealand Jetsprint Championship, this year with co-driver Karen Wakelin. The past two years she has held her own in the Super Boat Class, piloting a 800 horspower 6.2L LSA engine running straight methanol. Talk about girl power!
---

7. Kat Benson – Time Attack
Kat proved her exceptional driver ability as the 2013-2014 New Zealand Superlap Series Pro-Street Champion. She has also competed at World Time Attack in Sydney, Australia, in her 2001 Mitsubishi Evolution 7 Time Attack/Superlap race car.
---
"International Women's Day (March 8) is a global day celebrating the social, economic, cultural and political achievements of women. The day also marks a call to action for accelerating gender parity. … International Women's Day is a collective day of global celebration and a call for gender parity." – https://www.internationalwomensday.com/IWD2019