Link ECU Build of the Week #7 – R53 MINI Cooper XT
"Pure Adrenaline & Pure Excitement" is how James Michael describes driving his MINI Cooper around circuits such as Nurburgring, Spa Francorchamps and Silverstone.
It's no wonder, with 411 wheel horsepower and a list of over 100 modifications, that the 2005 MINI with an R53 Turbo engine conversion brings him such pleasure.
The street legal Cooper XT is regularly taken to race tracks where the absolute most can be extracted out of this amazing package. A lightened crank, forged pistons and rods, a screamer pipe and 38mm waste-gate make up just a fraction of the full Specifications list (found below).
This MINI now has four times the power output than original.
Starting life at 94 horsepower, James purchased this car in bone stock trim. It now pumps out 473 bhp, after he has completely transformed the car from the inside out. Not one bolt has been left un-turned.
British Link ECU Dealer 1320 MINI are experts in the field and helped James out with installing a Link G4+ MINILINK PlugIn ECU. The PlugIn ECU gives the MINI a real on track advantage, enabling features such as boost by gear, launch control, anti-lag and traction control.
The Link ECU also sends information directly to the Aim Dash in the cockpit, so James can see real time data, in addition to that which is available via PC Link Data Logging.
Other engine management features 1320 Mini have set-up include:
OEM Idol hardware support
5D Support with 3 switchable tables
Quicktune
Individual cylinder correction
Staged Injection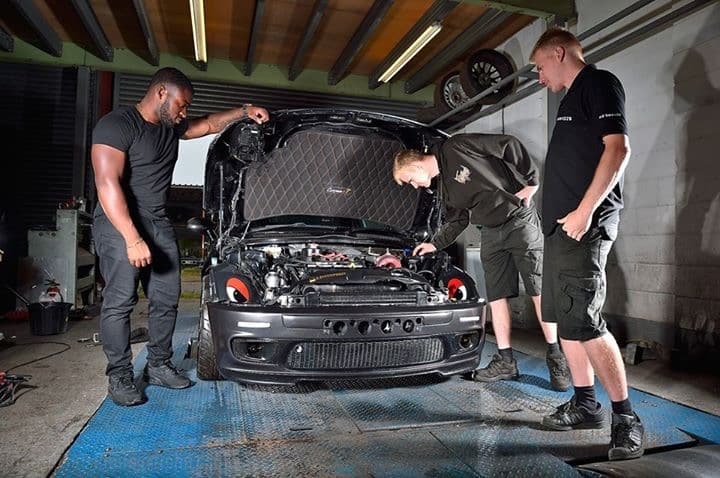 James is eagerly awaiting event restrictions to ease, so he can attend some planned track days this year. Goals include doing a sub 8 minute lap at Nurburgring, as well as driving at Brands Hatch, Silverstone, Castle Combe and more!
We here at Link ECU can't wait to see this special MINI in action at Castle Combe. In the meantime we will just have to keep a watchful eye via social media.
Social Media Links:
Specifications:
CooperxT specification
MINI R53 engine
28/73HTA dual ball bearing hybrid turbo
Gold custom billet wheel
Tial v-band
38mm wastegate
3″ 1320 downpipe
Screamer pipe
Tial bov
2% enlarged lightened crank
1000 injectors
Cat cam (billet)
1320 sidewinder exhaust manifold
1320 custom billet collector
1320 Ported head gs valves and crown springs
Forged pistons
Ported inlet manifold
Relocated throttle body
Link PlugIn ECU
Forged rods
3″ custom BORLA Exhaust with decat
Clutch master FX500 clutch
Clutch master Single mass Flywheel
Pro alloy FMIC and Rad
1320 custom MANIC Map
6speed gear box
Quaife 1.5 LSD
AEM AFR Gauge
Cooper S fuel Pump
MSD leads
Custom header tank
Exterior:
Mini Gp rear wing
Mini Gp front bumper
Mini GP sideskirts
Mini Gp boot
Mini Cooper s bonnet
Jaguar bonnet vents
Carbon wing mirrors
Carbon door handles
Carbon splitter
OEM Xenon head lights with custom halo
Custom terminator eye
Rear wiper delete
Custom light brows
Smoothed arches
Pearl black wrap
Brushed black warped roof
Custom wrap tattoos around the car
Interior:
MINI R56 custom recaro seats (diamond stitch alcantara with Bentley leather including personal logo)
Custom dash (bentley leather top with diamond stitched alcantara underside)
Custom alcantara stitched gators
Rear seat delete (diamond stitched alcantara)
Custom sun visors with personal logo
Custom floor mats with personal logo
Custom bonnet cover with personal logo
Carbon complete interior
OEM satnav installed
Omp baby steering wheel
Wheels and Tyres:
OZ formulae HLT 17″ et25 wrapped in Yokohama AD08R
Brakes:
330mm MINI R56 Brembo 4pot
R56 rear calliper conversion
Suspension:
BC RACING coilovers (camber dampening rebound and height settings)
Adjustable rear anti roll bars
Shortened front drop links
Other:
Boost controller
Turbo timer
Upgraded sound system
Short shifter
Cooper S fuel cap
Battery relocation